Cory Pickos Waterski & Wakeboard School
PEAK AT PICKOS'
Featuring one of the greatest skiers of all time, white beaches and a communal atmosphere, Cory Pickos' Ski school beckons. By Eric Butterman
Cory Pickos could have just settled for winning the Masters trick title 10 times, but he found that passing on his knowledge was as fun as any trick he ever pulled of. "You get to know these skiers over the years," Pickos says. "You watch them grow, and it feels so great having them achieve their dreams."
But the dream isn't necessarily winning a title — it could just be staying on your skis for 10 minutes or, for some, 10 seconds. Pickos Ski & Wakeboard School in Santa Rosa, Florida, is a place for anyone who loves the idea of flying on water, no matter what their actual speed is. It also ofers a beach community, which creates a vacation like experience, both for those who do it alone and those who bring their families along.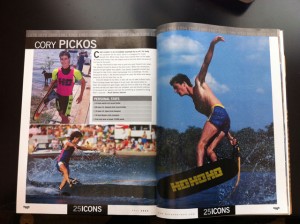 And it's a family affair at the school — Pickos' wife, Rose, handles many of the bookings, and his son, Adam, an up-and-coming elite skier himself, is often there to coach. And then there's the sand.
Sans Rival Waterskis – Cory Pickos
"The one thing that distinguishes Cory's from other ski schools in the U.S. and maybe the world is that it's a mile away from the beach," says Regina Jaquess, the current women's Masters slalom champion and co-holder of the world record. She has been training with Pickos since she was a child. "You have the white sand — only 150 miles in the U.S. has that — and you can go through the state forest that backs up to the lake [it's one of two that the school owns and uses full time]. You also get a variety of people: those who come down to get in a couple sets a day and be on vacation with their family, as well as groups who stay at the ski school for several weeks — some even train year-round." Accommodations are offered, though Pickos is quick to explain that they're bunk-style. "But if you want to rent a house or want a great hotel nearby," Pickos says, "there are plenty of options." Daniel Odvarko, a SansRival sponsored skier from the Czech Republic who trains with Pickos and coaches at the school, says: "To be around great skiers can't help but make you better. You end up pushing yourself from watching everyone else." Adam has experienced that his whole life. "Growing up [at the school], I always had that competitive feeling, striving to ski a little bit better," he says. "I've skied with people who travel from all over the world to train here. You learn a variety of ways to ski, and that there's always a new way of approaching it."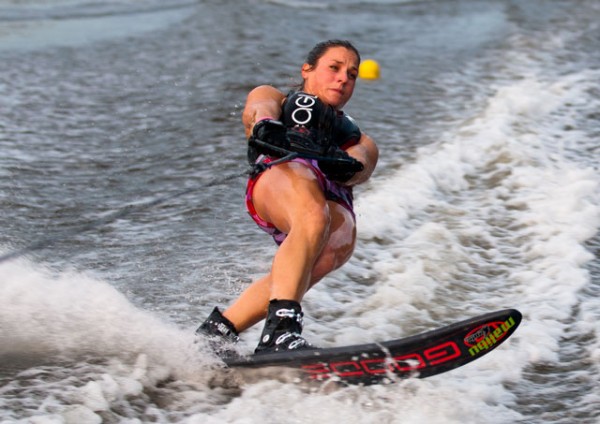 But Jaquess says that the school's attitude may be the biggest selling point. "You'll come in and be greeted with a laid-back atmosphere," she says. "There's a great team of coaches, and everyone is super-friendly and knowledgeable. We're open people, and it's a welcoming environment. You come here and you end up going out with your coaches to have a cocktail or grab dinner together."
Pickos' coaching philosophy varies according to what level of skier he's dealing with. "When it's a beginner, it starts by looking at what equipment they have," Pickos says. After assessing their skis, he'll go over the basics in the boat before they hit the water.
For intermediates, the more he learns about their skiing background and what their goals are, the more he can help. He starts with the core fundamentals, and from there homes in on the details. "We try to improve what they're doing with good technique, but we're open," he says. "If they want a one-handed gate and want to stay with that, fine. Or two-handed — it can be done a lot of ways," he says.
For pros? "It can get intense quickly!" he says. "We've done so well with many of our advanced skiers because we learn their personalities. Everyone has a different anatomy and ski style. You have to get rapport and ski with them some so they can go, 'Oh, wow, that's better. That makes sense. Didn't think of it that way.' Little by little, they come to believe in your ability." With all that intensity, the instructors occasionally need to unwind. The Gulf of Mexico came in handy not long ago. "Its crystal clear water is absolutely beautiful," Odvarko says. "Crab Island is great because it's shallow and 200 yards from shore. People are partying in their boats, listening to music, and you can just walk around in knee-deep water and meet new people."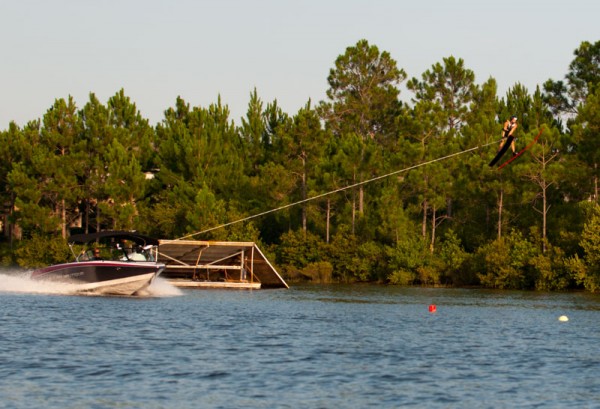 Jaquess believes that every skier has a chance to be influenced by Pickos, regardless of his or her age or ability. "I would imagine that if he never got a paycheck from it, he would still be doing this," she says. "His outgoing attitude spills over into his coaching techniques, and it's something that's always pushing the skier's level higher. He makes you love the sport!"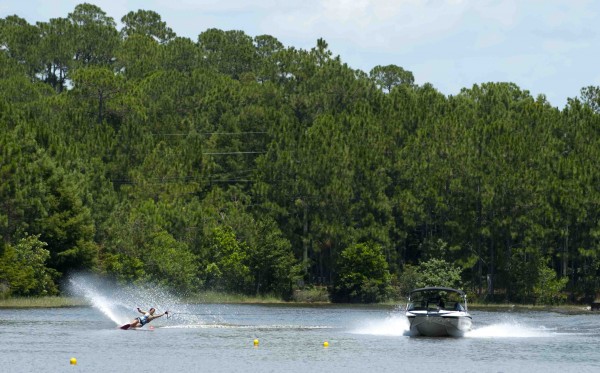 Pickos' Tips for Better Skiing  
Get Stacked "Think of 'stacked' in skiing as doing a squat with one foot in front of the other. As soon as you bend your knees and get too low, it's of balance and weaker. It's so much better when erect and standing tall."
Be Light "This means you don't lean against the boat much or fight the boat," Pickos says. "Be connected from hip and handle, and move with the boat." Get in an Athletic Fashion This is moving with your head, shoulders and hips level. "You're not skiing into the slack, but with a nice tight line and rope control," Pickos says. "Like a motorcycle rider who turns sharp and leans, almost touching the asphalt, but can keep his balance!"
Get Into an Athletic Position This is moving with your head, shoulders and hips level. "You're not skiing into the slack, but with a nice tight line and rope control," Pickos says. "Like a motorcycle rider who turns sharp and leans, almost touching the asphalt, but can keep his balance!"
To book lessons at Pickos Ski & Wakeboard School, call 850-267-3988, e-mail [email protected] or visit the school online at corypickos.com.