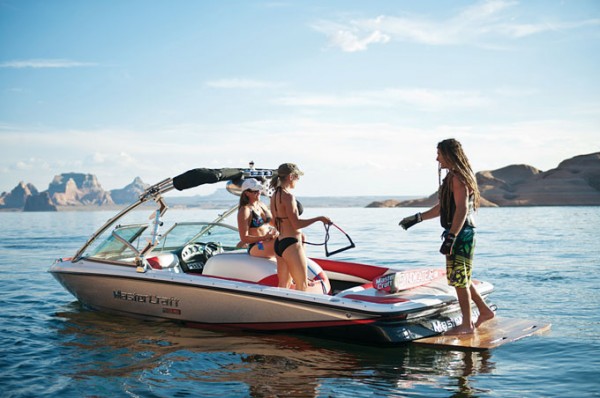 Lake Powell's name conjures images of adventure-filled days and endless summer nights. An unspeakably beautiful body of water that straddles the Arizona-Utah border, Lake Powell actually began with a 1950s dam initiative led by President Eisenhower. The expansive Glen Canyon filled with water as a result of the dam and created a picturesque playground, and our crew, led by Marcus Brown, was eager to explore it.
The skiers were in search of something very specific: a portal that would lead them directly to the roots of water skiing. "Every day was something different in the summertime as a kid," Brown remembers. "I'd ski different lakes, run diferent lines and connect with diferent people. The monotony of skiing on private man-made lakes wasn't an issue back then." It's not that Brown is opposed to tournament- specific lakes; he loves them. He is, however, concerned with their dominance in the sport. "These private facilities are such a small part of skiing. They house some of our contests, but it's big-water skiing that truly fuels skiing, and that was my motivation for organizing this Powell trip. Gather a bunch of friends and some boats and just let our hearts guide the rest."
Brown and his girlfriend, Jen Labaw, who's a world-ranked CrossFit athlete, composed a call-to-action e-mail, hoping to enlist a diverse crew of friends and fellow water-sports enthusiasts to spend the final week of September at Lake Powell. First on the list was longtime friend Brian Moore and his wife, Erin. Brown has been skiing with the Moores for more than 10 years, and he knew that they would be eager to recapture their childhood water ski memories. "I hadn't free-skied in probably 10 years," Brian says. "Rollers, jet skiers, fishermen — none of that mattered when we were young. Somewhere along the way, things got so serious." Skiing aside, it was the pure natural beauty of Pow- ell that resonated with the Moores. "I was in no way prepared for the sheer size of Lake Powell. It really reminded us of how small we truly are," Brian says.
NEXT PAGE