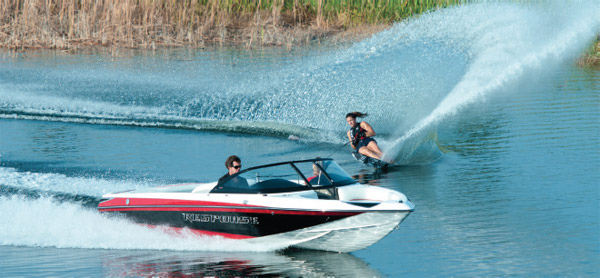 When you think of a powerful water ski boat, you probably think of the engine and the strong body. But if you forget about the propeller, that could mean forgetting about having a well-running boat for a long time. Tom Benedict, owner of Acme Marine Group, says that, when it comes to propellers, start by looking at performance.
"The type of performance the propeller can provide is determined by the type of sporting activity the user desires," he says. "For example, skiers want performance out of the hole, but the propeller should create a nice wake, so you're not looking at top-end speed necessarily."
Benedict says the general rule for choosing between a three-blade and a four-blade, is that when the number of blades is increased, a less-efficient propeller results, meaning it drives additional blade surface through the water. Benedict says that most skiers "prefer a three-blade design, which creates a softer wake. The four-blade propeller is used primarily for V-drive inboard boats, and creates a harder wake and will also improve low-end acceleration."
Longtime boat mechanic Jody Seals says that, as far as which blade is the best, it's still a matter of interpretation. "We know what size and diameter will do, as far as speed versus rpm," he says. "But to try and make a given boat change its characteristics isn't so easy to measure."
But what about fuel efficiency? This comes down to the accuracy of the CNC manufacturing process, which has created the finished propeller geometry, Benedict says. "You want to buy the propeller for your boat based on open-throttle rpm; then we work through a sizing program for the right diameter and pitch for a certain boat and fuel efficiency." Seals reminds boat owners that a total combustion engine is a compressor pumping air, so the more air pumping the more fuel you will burn. "Put the propeller on the lower rpm and produce reasonable power, and you will lessen your fuel bill," Seals says.
Like the car that has nagging problems, it's always tough to know when to keep fixing the propeller and when it's time to cut your losses.
Seals says, "if it's got a chunk taken out that's substantial, then you should replace it, but if you are going to patch it, then you should probably send it to the manufacturer. "It's very hard to find a place that's expert enough locally." If it's just a minor ding, then you can get it fixed in town, but Seals recommends asking your local shop if they have a pitch block. "If they don't, then go somewhere else. You need it to fix it."
Of course, you could ignore it. But the drawbacks of not fixing a bent propeller, Seals says, "are that it can take out a cutlass bearing in the strut or even the rear seal out of the transmission."
In the end, if it has to be replaced, you don't necessarily need a dealer for the labor — Benedict says most people can change one out in 10 minutes. the tools you'll need to get the job done are as simple as a crescent wrench, pliers and a hammer, and prop kits are sold at boat-related shops.