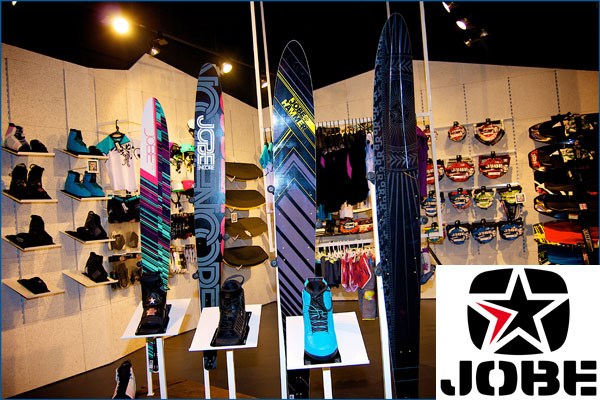 Go behind the scenes at JOBE / The Concept Store with Sophie Teitelbaum.
JOBE / The Concept Store
8031 Turkey Lake Rd. Suite 400
Orlando, FL 32819
407-352-3655
jobesports.com
1. When did you start your business?
We launched our online web shop www.jobesports.com February 15 and we did the grand opening of our Orlando, Fl concept store about a month later: March 11.
2. Do you consider the location of your shop a key factor to the business's success?
Yes; even though our focus is on our online sales as well, our location is amazing. We cater to the nearby Butler chain of lakes, Windermere and Isle Worth areas, as well as popular shopping and tourist spots like International Drive.
3. What product is selling best these days? What products do you carry?
Locally, we sell a lot of soft goods. Online skis and tubes are top sellers! What's really cool to notice, is now that we've returned to the USA, a lot of skiers will contact us with requests like, "I have my old Jobe Honeycomb" or, "I have my old Jobe Spectra – can you guys hook me up with a new pair of bindings again?"
4. Where do you see your shop in 5-10 years from now?
We are really all about building long-lasting customer relations, so I envision the shop itself to be a big part of its local community by then. As far as the online web shop goes, there are really no limits! We are already starting to sell and ship all the way to the west coast and internationally as well, like to Suth America and Canada.
5. Who is your average buyer?
Definitely boat owners. With this many lakes around in Central Florida, tons of people own boats down here. It's awesome to sell gear to someone who just bought a boat and see how pumped they are to get their toys and get ready to hit the lake!
6. What is the dumbest question a customer has ever asked?
From our online chat: do you guys sell skis?
7. What is the craziest return a customer has ever tried to make?
Nothing crazy yet really… People love our product, no need for returns
8. Does your store support any local athletes or have a team?
Absolutely! We still have 2 spots open for pro slalom skiers on our team! Other than that, we already have our wake team established. We are currently sending our top-of-the-line Rogue Ski out to different ski schools all over Florida and some other nearby states as well. We love for ski schools to try and demo it and let us know what they think. Often this can lead to dealer possibilities too.
9. How many days a week do you ride now compared to before you owned a shop?
Not enough! *joke* I used to ride 3, sometimes 4 times a week this time last year. Now I try to ride once a week; I'm a weekend warrior nowadays!
10. Who is your favorite skier/wakeboarder/wakeskater and why?
My favorite skier is Josh Briant! He is only 16 and has already represented Australia at two world title events. He is also the #1 Jr. Overall water skier in the world! Besides that, he's just a really nice kid. His old man (Wayne Briant) isn't too bad either! *joke*
11. Every store has to deal with shoplifting. What is your most memorable experience and what is your shoplifting policy?
None of them have ever survived
Knock on wood… We're brand new and haven't had to deal with any shoplifting yet. Like to keep it that way!
12. Tell us one of the craziest shop stories you can remember?
We think this place may be haunted… When we were still getting ready for our grand opening, Stephen Marshall (our web & shop manager) lost his keys, like gone, nowhere to be found for weeks. Finally, after the grand opening, we came in the shop one morning and found his keys mysteriously just laying in the middle of the floor and in the center of our Jobe star logo. We still have no idea how they got there, the weirdest thing!
13. Does your store carry any products that make it unique to other wake shops in your area?
The fact that we are the first and only real concept store in the watersports industry makes us unique. Coming back to the USA after years of growing in the European, Australian and Asian markets, gave us the luxury position of being able to invest heavily in this 4000 sq.ft store. We have our entire product line on display and out of the box: almost 600 products covering slalom skiing, combo skiing, wakeboarding, kneeboarding, pwc/jet skiing, bare footing, tubing and stand up paddle boarding. We're about to also add wake surfing to this line up: coming next season! Our store offers a unique buying experience and we sell our products directly to the end consumer, by doing this we can keep our prices lower than the competition. Accessibility is key and by operating from a concept store, we cater to a wide range of water sports enthusiasts, from general sport boat owners to cable riders, to tourists to high-end consumers. We really put 'fun' and 'lifestyle' on display in our store, customers can touch and feel every product out of the box. We have all products on display and available in all sizes, ensuring that customers buy the right product to fit their needs and wants.
14. How significant is the benefit to you that your store could be featured in WATERSKI?
Its huge! WATERSKI has been a driving force in the watersports industry since the early 80′s. Partnering with such an authority in our sport means guaranteed exposure. Exposure means branding and branding in turn, leads to more sales. Besides that though, a lot of people may remember Jobe from back in the day, but to a lot of younger riders the brand name is totally new. Having a feature in water ski mag also legitimizes the brand with the younger crowd.