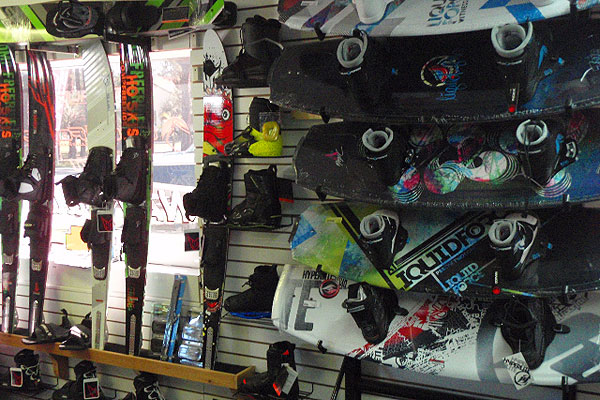 Go behind the scenes at Lake Area Watersports with Chad Hovsepian.
Lake Area Watersports, LLC
829 North SR 21
Melrose, FL 32666
352-475-3434
lakeareawatersports.com
1. When did you start your business?
Our business officially started as Lake Area Watersports, LLC in October 2004.
2. Do you consider the location of your shop a key factor to the business' success?
Location is key because we are surrounded by water. Sometimes folks shop before they get to our town only to realize that next time they will wait because we have all the right gear and a great staff. We are located in a small town in an area where lake-front property is affordable allowing many of our customers to have vacation homes to escape from the big city.
3. What product/boat is selling best these days? What products do you carry?
We currently carry Nautique, Moomba, Supra, Bennington Pontoons, Yamaha Outboard Motors. What sells the best is our Ski and Wakeboard boats. Everyone wants to go wakeboarding and wakesurfing. Our proshop carries Liquid Force, Hyperlite, Ronix, Jetpilot, Oneill, Byerly, HO, Straightline, and more. We are really big into wakesurfing so those tend to sell well. We also love to pull hard on the slalom handle to get around those pesky buoys and through the exit gates. We have a surveyed course on our local private lake and skiing behind the SN 200 and even the Sport Nautique 200V makes it easy to "get em all."
4. Where do you see your shop in 5-10 years from now?
The goal is ride out the economy issues and hopefully be at a point where the debt is paid and business is stable. We also hope to grow the business so that we can provide a customer experience that exceeds their expectations.
5. Who is your average buyer?
Mostly, water skiers, wakeboarders and people driving in circles with a tube behind their boat. Our business is very boat-service driven so many of our boat-service customers shop in our proshop when dropping off or picking up their boat. We bring in people from 100′s of miles away because they know we take care of their "baby"(boat) while it is at Lake Area Watersports for service. Good communication and long term relationships is the core of our business. Our goal is to find and keep our customers for life.
6. What is the dumbest question a customer has ever asked?
Will you give me a free wakeboard if I send customers to you to buy a wakeboard.
7. What is the craziest return a customer has ever tried to make?
We have not had many crazy returns. Just standard returns like: "My board broke, can i have a new one?" Or, "these bindings are peeling on the outside can i get new ones?" Or, "my rope broke and i just bought it?" – (when you can tell the prop chewed it up).
8. Does your store support any local athletes or have a team?
We have a program that we started called High School Wake Games. Schools form clubs and compete against one another. Really a clean event. Scoring works great and all contestants have a great time. Check out HighSchoolWakeGames.com and facebook/highschoolwakegames.
9. How many days a week do you ride now compared to before you owned a shop?
Not sure how many but definitely not as much. We make sure everyone else is riding, though.
10. Who is your favorite skier/wakeboarder/wakeskater and why?
My favorite skier is Kyle Tate. He is from our local town and just a great guy. He is also a great attorney with a practice in Keystone Heights and Orlando. Favorite boarder is Murray because of his style, fluid moves and his faith in God.
11. Every store has to deal with shoplifting. What is your most memorable experience and what is your shoplifting policy?
We caught this crazy crack head on film breaking in and trying to get TV's off the wall. No matter what he did or how hard he pulled he could not get them off the wall. It was very comical to watch. He ended up getting nothing, was arrested, and went to jail. The daytime shoplifters are easy to spot. They are usually women with empty purses that drive up in a beat up ride. They usually have a male with them to help distract the staff.
12. Does your store carry any products that make it unique to other shops in your area?
All of our products are "unique to the area" because we are the only shop in our small town. The only place to get skis and other gear would be a chain store in Gainesville. And we all know what kind of knowledge their sales staff has. "Buy this one, it will work for everyone in the boat." We take pride in sizing the right gear for the size of the rider. We always help the customer understand that the right gear will help their skills progress quicker.
13. How significant is the benefit to you that your store could be featured in WATERSKI?
It is great to be in WATERSKI! I have been reading WATERSKI for over 25 years, and it is an honor to be featured in an article. I hope that those folks who do not know we exist and could benefit from our location will come in and check us out.