Fifty-five year old native born Belgian Alexandre De Nobrega decided to make the move to Central Florida to pursue his career goal as a personal trainer and ski year-around. Along with wife, Katty Parent, and his two young children, they now reside in Clermont, Florida living in close proximity to Swiss Ski School. This gives him the opportunity to train closely with water skiers not only off the water, but to ski with them behind his new Ski Nautique 200 that sits in his backyard lake.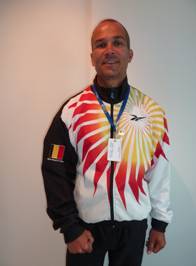 De Nobrega has made himself a name in Belgium, and other European countries as one of the top private coaches. He has been nationally and internationally recognized for his skills and knowledge in high-level sports, but water skiing specific training is his key interest. In Florida he works with several top water skiers in the world that include rising star Manon Costard, veteran pro Boris Laval, and European slalom champ Claire-Lise Welter. "My career in fitness has allowed me to reach my true passion – coaching," says De Nobrega. "My greatest pleasure is to be able to bring my athletes to their highest potential both mentally and physically."
As we head into the offseason De Nobrega is someone to keep in mind. "Thanks to his unique techniques of coaching, his unprecedented experience of fitness, nutrition, and the psychology of sports, I improved greatly as a skier," says Laval. De Nobrega hopes to remain permanently in the United States to continue to train water skiers from around the world, and to bring them to their fullest potential.
To train with Alexandre De Nobrega, please contact [email protected]