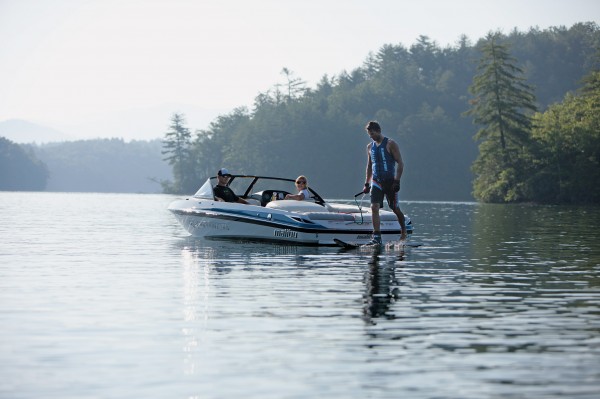 Whether free skiing or reaching for a world record, every skier wants to have the best possible set whenever he hits the water. Here are some of the things I do before I attack the course to make sure that every set I have behind the Malibu Response TXi is the best it can be. — Thomas Degasperi, Malibu Team Skier
Stretch
It's crucial to be warm before you ski. I use the engine cover to stretch my hamstrings and the pylon is perfect for attaching a rope and stretching out my back.
Visualize
If you've ever seen a snow skier before the giant slalom, you know what visualizing looks like. Before every set, I think of the things I want to accomplish in the course and then I try to relax myself by taking deep breaths.
Set Your Grip
Before every ski set I wash my hands and the handle to get them as clean as possible. Only then do I put my gloves on. After all, if you don't have a perfect grip, there's no point in going out for a slalom set.
Get In Sync
C3 is my Zero-Off GPS speed control setting, so I make sure the driver knows that and my line length. MaliView and Malibu Touch Command come standard on the TXi, which make the driver's job easier than ever. Once it's set, he only has to throw down the throttle and steer straight.
Suit up
The Response TXi has a big platform, which is a comfortable place to get my ski on or rest between sets. This is a great time to both think about your goals in the course and reflect on your last run.