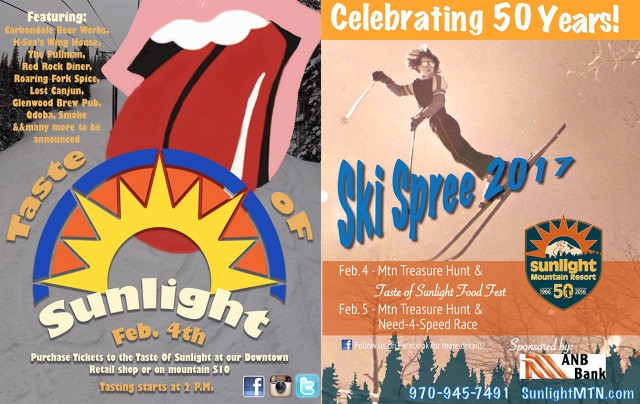 Officials at Sunlight Mountain Resort have announced they will host Ski Spree and The Taste of Sunlight (formerly the chili cook-off) entirely at the mountain this year. Scheduled for Feb. 4-5, the chili cook-off has traditionally been held at Hotel Colorado, which is scheduled to close for renovation Jan. 31. Troy Hawks, marketing and sales director at Sunlight, said his team did explore other venue options before deciding to host the event entirely at the mountain.
"We're excited to re-invent Ski Spree this season, and bring the party to the people here at the mountain with our first annual Taste of Sunlight," Hawks said. He added that the food festival will feature about a dozen local restaurants serving samples of their finest appetizers, entrées, soups, or other menu items. Some of the restaurants participating include Carbondale Beer Works, K-Sea's Wing House, The Pullman, Red Rock Diner, The Lost Cajun, Glenwood Brew Pub, Smoke, Qdoba, and more.
The food tasting will start at 2 p.m. on Feb. 4. Tickets to taste are $ 10 and are available at the mountain, at Sunlight Ski & Bike on 309 9th St., and ANB Bank in Glenwood Springs. Skiers and riders will vote on the best food and the event will feature a prize drawing including a Limited Edition Sunlight 50th Anniversary snowboard by Meier. Sunlight will also hold its Mountain Treasure Hunt on both Saturday and Sunday. Skiers and riders search for over-sized dollar bills hidden around the mountain and redeem them for prizes at Sunlight Guest Service Office. Twenty-five prizes will be awarded daily. Follow Sunlight on Facebook for more details or call 970-945-9425.
The post Taste of Sunlight and Ski Spree coming to Sunlight Mountain appeared first on Colorado Ski Country USA Blog.